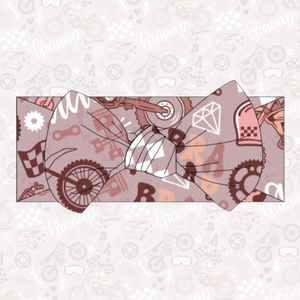 Introducing our versatile Bamboo Dirt Bike Patterned Bow, designed to bring a touch of adventure to both babies, kids & adults. Made from eco-friendly bamboo fabric, this bow showcases a fun dirt bike pattern that captures the spirit of exploration.

This one-size bow is adjustable, allowing you to tie it to fit comfortably on your head, whether you're a baby or an adult. With its soft and flexible material, it provides a snug and secure fit, making it perfect for any dirt biking adventure.

The bamboo fabric used in this bow is not only gentle on the skin but also sustainable and durable. It's the ideal choice for those who value both comfort and eco-consciousness. The dirt bike pattern adds a playful and spirited element, perfect for showcasing your love for off-road adventures.

Choose our Bamboo Dirt Bike Patterned Bow and enjoy the comfort, style, and versatility it offers. Embrace the thrill of dirt biking and express your love for adventure with this fun and trendy accessory. Get ready to turn heads both on and off the track!